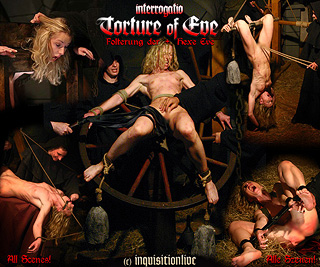 Die Folterung der Hexe Eve: 5 Einzelszenen authentischer und EXTREMER HEXENSCHÄNDUNG in überarbeiteter und ungekürzter Fassung als MP4-Videos zum Download. Auch diese Umsetzung ist nichts für Zartbesaitete! Diese Hexe verdreht ihren Peinigern die Köpfe und bekommt die Wirkung ihres Hexenwerks sogleich zu gnadenlos zu spüren!
Eisenzwinge und Hammerphallus – Gewichte und Fotzenpeinigung kopfüber – Prangerschändung – Benutzung auf dem Hexenaltar – Folterrad
This is the complete collection of all the torture scenes with Eve, uncut, remastered and as mp4 files. The Eve scenes are some of the most extreme and genuine scenes of disgrace and sexual abuse which happened to witches in medieval the middle ages. Witches have been symbols of lust and femaleness. So the worst things happened to them down in the medieval dungeons.
iron shackles and hammering phallus – heavy weights and cunt torture – fucked and abused at the pillory – disgraced on the witches altar – wheel of torture