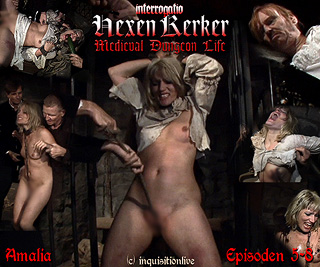 Hier zeigen wir das, was in den als Hexen angeklagten Weibern in den dunklen und gottverlassenen Gefängnistürmen des Mittelalters geschah. Es gibt wenig schriftliche Zeugnisse und Überlieferungen, bestenfalls Andeutungen darüber, was es für eine Frau bedeutete – besonders, wenn sie hübsch war – über Wochen und Monate hinweg hilflos der Willkür und den Launen den Folterknechte und Kerkermeister ausgeliefert zu sein…
Amalia, die einst als Heilerin ihren Lebensunterhalt bestritt, ist die erste Hexe, deren Schicksal im Gefängnisloch wir näher verfolgt haben. Sollten Sie Folgen 5-8 unserer Weekly Soap versäumt haben, so bietet sich jetzt die Gelegenheit, diese nachträglich zu erwerben.
What happened to the witches in the dungeons, when the jailers and torturers were alone with them? There are not many historical traditions about this theme. But anybody of us probably could imagine, what might have happened to a pretty young woman, being chained and lying helpless in a dark and dirty cell of a medieval dungeon: she had to suffer the worst things, like hunger, torture, abuse, humiliation and any kind of degradation. Remember, in medieval times a woman who has been found guilty for witchcraft was worth less than an animal. The fate of such a bitch was just horror.
This download is for all who have missed episodes 1 to 4 of our Hexenkerker weekly soap. Buy your ticket and watch the painful fate of Amalia the young blonde healer, who is jailed in the Inquisitions dungeon.