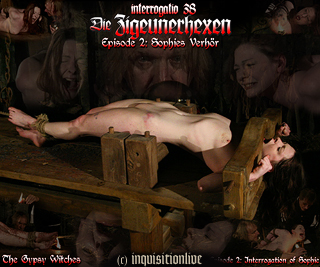 After Brother Quintus asked the gorgeous gypsy woman and soothsayer Agatha for advice about his future plans, Agatha herself realized in her visions, that it is her fate to suffer down in the dungeons of the Inquisition after being accused for witchcraft. They torture and humiliate her to find out the secrets of her crystal ball (Episode 1). But it means even more horror than any kind of torture for Agatha, when she anticipates the fate of her sister Sophie, who will be a victim of the Inquisitions cruelty also: Sophie has to suffer inhuman pain on the torture rack, where she is interrogated for hours! First she is punished by the Bastinado, when the soles of her bare feet are beaten. But not only the soles, her whole legs get weals by the caning. Then her naked body is afflicted by flames and hot wax, while she has not any chance to avoid the heat. They stretch her longer and longer until she is crying in agony, and they have no mercy until she tells them anything they want to know about the crystal ball. But the gypsy witch tries to keep her secret. So hot glas balls should suck the truth out of her flesh, when they begin to burn the bare soles of her feet and her limbs. The poor gypsy girl has to suffer incredible pain!
The Interrogation of Sophie, episode two of the Gypsy Witches, is one of the most intensive and disturbing interrogatio videos ever, as the pain caused by the historical torture with the rack is shown as realistic as you have never seen before. There is only one chance fot the witch to escape this horrible pain, she must tell her torturers anything they want! This video is a must-have for all who like this torture method!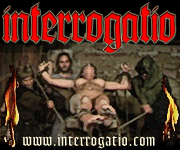 Comments:
1 Comment posted on "Interrogatio 38 – Die Zigeunerhexen 2 / Sophie (Gypsy Witches 2 / Interrogation of Sophie)"
John
on March 27th, 2011 at 3:23 pm #
This interrogation is very realistic and show, how incredible pain is , when women stretched on the rack. The rack is the most famous torture device in medieval inquisition. Thank you for your post. Waw!!! Very hot!!!!